Our Projects
Creativity. Innovation. Impact.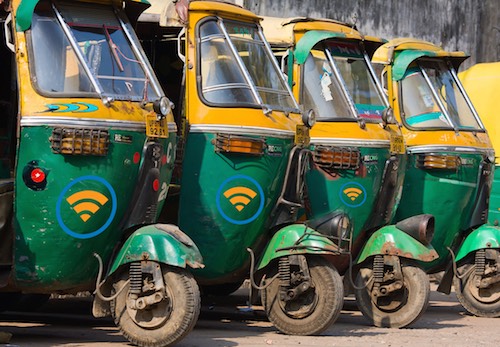 Muft WiFi Network
Community powered free WiFi Zones
A community network of free and sustainable WiFi zones; supported by local Internet Service Providers and sponsored via hyperlocal WiFi advertising.
Users at such Muft WiFi hotspots get access to high-speed, neutral, and free Internet. However, they need to watch a 15 second advertisement every 1 hour to avail access.
The Muft WiFi community has enabled access for 100,000 end-users in India and continues to bring more people online every month.
Muft WiFi Hotspot Software
Porwering India& Monetization Software
Muft WiFi hotspot software for captive portal monetization is used at schools, colleges, cafes, hotels, and tourist spots.
We developed an in-house free-to-use (and soon to be open sourced) cloud controlled Radius (AAA) with mobile-OTP based authentication system. This software substantially increases revenue while utilizing idle bandwidth.
This significantly improves low cost public WiFi distribution for Internet service providers and operators in India.
Virtual ISP Program (VISPP)
Micro-distribution of prepaid WiFi in India
The Virtual ISP research project is by far one of our most successful projects – as it focuses on micro-distribution of Internet in India.
By simply plugging in our routers and selling access code vouchers; we are turning small shops and street-food vendors into franchise-partners for Internet service providers who host a low-cost prepaid WiFi network within village/town.
For as little as Rs. 10 per hour of access, the VISP program has helped many users in India get online at significantly lower costs in comparison to buying a monthly Internet plan.
MIKRO Education & ISP Consultancy Programs
For people who want start or optimize their own ISP business
We have partnered with Jetking and ForgeCube to create educational programs with a goal to bring future network and web architects up to industry standards. Our educators are focussed at creating a generation of entrepreneurs that provide affordable (and open) Internet access and create localised web services.
MIKRO Internet Entrepreneurship Program – Training program for students to become (WiFi) Internet service providers / operators.MIKRO Web Development Bootcamp – Intensive training program to transform young students into web developers.
By end of this year, the abovementioned MIKRO educational program framework will be used to teach across 110 cities (and with the option of distant-learning online).
MIKRO Money
WiFi Advertising & Internet Monetization Seminars
At MIKRO Money events, we invite leading experts and from telco, public policy, hardware manufacturing, and software development to share innovative ideas.
These events provide meaningful scientific research and consultancy to Internet Service Providers, network maintenance agencies, hardware/software companies & people who want to start their own ISP business.
Our seminars help such organizations increase revenue, adopt new cost-effective technologies, overhaul business practices, enhance user experience, and improve organizational efficiency.